In Remembrance of William Homer, Illinois Brass Band Co-Founder
August 2020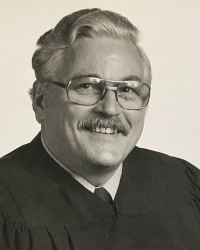 It is with great sadness that we share the news of Illinois Brass Band Co-Founder William Homer's passing.
The Honorable Judge William F. Homer, 89, passed away on August 4, 2020, in Tampa, Florida. Judge Homer was born on September 19, 1930, in Wilkinsburg, Pennsylvania to Frederick Homer and Helen (Kirchhoff) Homer.
Judge Homer attended the Illinois Institute of Technology where he received his Bachelor's Degree in Electronic Engineering. Upon his graduation he served in the United States Navy during the Korean War. After he retired from the Navy, Homer attended John Marshall Law School where he earned his JD with honors. He joined and later became a partner with the law firm of Fuqua, Fuqua, Winter and Homer in Waukegan. He was appointed Associate Judge in 1974 and served on the bench until retirement in 1992. In addition to being a respected judge, he had a great passion for music and the arts in Waukegan and throughout Lake County. He enjoyed playing with the Waukegan Symphony Orchestra and Waukegan City Band. He ultimately was the recipient of the Jack Benny Arts & Humanities Award! His pride and joy was being the co-founder of the award-winning "Illinois Brass Band" in which he played for almost 20 years.
Judge Homer is survived by his loving wife Ludwina of 45 years. He is also survived by his two sons, Eric and John.
IBB Co-Founder, George Foster, and partner in crime with Bill Homer, remembers Bill as "a great friend and IBB would not have likely started without him. Bill had a great sense of humor and was fun to be with. I had breakfast with him about every week until they moved to Florida. Politics was always up for discussion."
It was at a gathering at the Homers home attended by Neil Smith, then President of Boosey & Hawkes, USA, that Smith on behalf of Boosey & Hawkes offered financial assistance if Homer and Foster started a brass band. After hearing the Desford Colliery band in Milwaukee a few weeks later the wheels were put into motion to form the band. 2021 will mark IBB's 30th anniversary. George Foster recounted that the very first big check from Boosey & Hawkes for $3000 was lost and had to be reissued. It was later found after Homer's retirement in the judge's chambers as a book mark in one of his law books.
The Illinois Brass Band will always be indebted to Judge William Homer and George Foster for their vision and perseverance in founding The Illinois Brass Band. May the music continue forever in your honor.
Please click
here
to view the complete obituary for William Homer.
Support the IBB
Click to support the band via Amazon Smile!
Upcoming events
Sunday, December 5, 2021
Holiday Concert - Round Lake Beach
Round Lake Beach Cultural and Civic Center
Round Lake Beach, IL
Time: 3:00 P.M.
full list and details
Mailing List
Stay up to date on upcoming Illinois Brass Band performances and other news and events. Subscribe to the
Illinois Brass Band Announcements Mailing List
.
Tweets by @illinoisbrass