Illinois Brass Band to Perform at 2017 Illinois Music Education Association Conference in Peoria, IL
04 Jan 2017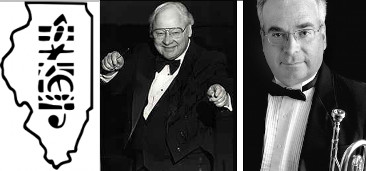 The Illinois Brass Band will perform in the theater of the Peoria Civic Center on Thursday, January 26, at 8:00 P.M. as part of the Illinois Music Education Association (ILMEA) 2017 Convention which is being held in Peoria, IL, from January 26 - January 28. As stated on the ILMEA web site: "The mission of the ILMEA is to promote lifelong music learning and to provide leadership for music education." As an ensemble of serious adult brass and percussion musicians dedicated to high performance standards continued musical learning and growth, the Illinois Brass Band exemplifies the ILMEA mission.
One of the pieces to be performed will be Little Suite for Brass by Malcolm Arnold. Little Suite was originally written for British brass band and was later arranged for wind band by John P. Paynter of Northwestern University and renamed "Prelude, Siciliano, and Rondo" - the names of the original piece's three movements. Paynter's arrangement, a standard fixture in wind ensemble repertoire, differs from the original brass band composition in that it expands upon the original to include woodwinds and a larger percussion section. Little Suite was selected for this performance as a piece likely recognizable by the audience of music educators.
The ILMEA performance by the Illinois Brass Band will include a performance by guest soloist, Dr. Bruce Briney, Professor of Trumpet at Western Illinois University, Macomb, IL. Dr. Briney will perform the cornet solo Jubilance by William Himes.
The program will also include Luminosity by Anthony DiLorenzo, Reflections in Nature by Robert Redhead, and The Millers' Dance by Manuel De Falla.
[ Performance Poster - January 26 - Peoria Civic Center Theater, Peoria, IL - PDF ]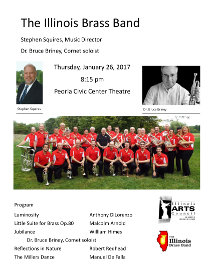 Upcoming events
Friday, April 6
North American Brass Band Association
Solo and Ensemble Competition
Solos - Marriot Courtyard
Ensembles - The Embassy Theater
Time: 9:30 A.M. to 5:00 P.M.
Fort Wayne, IN
Saturday, April 7
North American Brass Band Association
First Section Band Performances
The Embassy Theater
Time: TBD
Fort Wayne, IN
Saturday, April 28
Salvation Army Metropolitan Division Youth Brass Band
Joint Concert with guests Illinois Brass Band
Time: 7:00 P.M. Chicago, IL
full list and details
Mailing List
Stay up to date on upcoming Illinois Brass Band performances and other news and events. Subscribe to the
Illinois Brass Band Announcements Mailing List
.
Tweets by @illinoisbrass