Stephen Squires - Music Director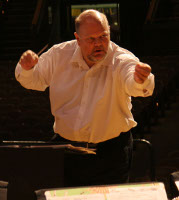 Mr. Squires received his musical training at the Preparatory School of the Eastman School of Music and the Crane School of Music, in his home state of New York. He earned his Master's degree in Instrumental Conducting/Trumpet Performance at California State University, Northridge. He continued conducting study in seminars with Helmuth Rilling, Maurice Abravanel, Daniel Lewis, Tsung Yeh, and the Aspen School
As a professional conductor, Mr. Squires has worked with many exceptional artists, including Janos Starker, Pinchas Zukerman, Shmuel Ashkenasi, John Browning, Leon Bates, Ani Kavafian, Wendy Warner, James Tocco, Richard Stoltzman, and most of the principal players of the Chicago Symphony Orchestra and Lyric Opera Orchestra.
Stephen Squires is the Principal Conductor and Professor of Conducting in the Music Conservatory at Chicago College of Performing Arts, Roosevelt University.
A conductor active in orchestral, wind, operatic and ballet music, Mr. Squires' current professional appointments include Associate Conductor of the Elgin Symphony Orchestra, Principal Guest Conductor of the Millar Brass (Evanston, IL), and Conductor of the Salt Creek Ballet Orchestra (Hinsdale, IL). He is the former Music Director of the Illinois Chamber Symphony.
Mr. Squires has recently made his debut conducting the famed Chicago Symphony Orchestra.
In addition, Mr. Squires is an accomplished recital accompanist and freelance trumpeter.
Upcoming events
Sunday, March 11
Brass at the Border IV
Time: 3:00 P.M.
Milton, WI
Friday, April 6
North American Brass Band Association
Solo and Ensemble Competition
Solos - Marriot Courtyard
Ensembles - The Embassy Theater
Time: 9:30 A.M. to 5:00 P.M.
Fort Wayne, IN
Saturday, April 7
North American Brass Band Association
First Section Band Performances
The Embassy Theater
Time: TBD
Fort Wayne, IN
full list and details
Mailing List
Stay up to date on upcoming Illinois Brass Band performances and other news and events. Subscribe to the
Illinois Brass Band Announcements Mailing List
.