Illinois Brass Band Prepares
For National Brass Band Championships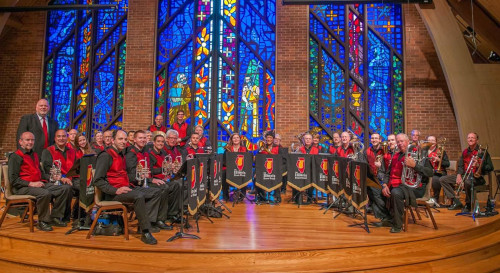 Please join The Illinois Brass Band for an open rehearsal and concert preview of their program for the 2023 North American Brass Band Association Championships. The preview performance will take place on Saturday, April 15, 2023 at 6:00 PM in the sanctuary of the First United Methodist Church of Arlington Heights; 1903 E Euclid Ave; Arlington Heights, IL. This performance is free and open to family, friends, and the community.
The band will be competing in the North American Brass Band Association (NABBA) annual championships on Friday, April 21 st and Saturday, April 22 nd in Huntsville, Alabama. Over 30 brass bands from across the USA and Canada will be competing in six different classes based on musical abilities. IBB will play their required test piece in the early afternoon on Friday and their own choice piece in the early afternoon on Saturday. Due to contest rules and because it is a blind judging, with the adjudicators behind a screen, we are unable to disclose in the press or through social media the actual piece being played and exact performance times in the contest. The music performed is some of the most technically challenging that many of the participating performers will ever encounter. This preview will be the only chance to hear these pieces locally. The band has been working on the contest music since the beginning of the year.
After the championships the band will begin working on their summer performance book, getting ready for an active summer season of local concerts. A complete schedule is available at the performances page.
The Illinois Brass Band is a 30 member British style brass band in its 32 nd year of performing throughout northern Illinois. It is an all-volunteer organization with membership granted upon successful audition. IBB is a recognized 501(c)(3) organization and is supported in part by a grant from the Illinois Arts Council, a state agency.
---
Upcoming events
Saturday, December 9, 2023
Holiday Classics - Family Holiday Performance
Time: 5:00 P.M.
First United Methodist Church of La Grange
100 W. Cossitt Ave.
La Grange, IL
full list and details
Mailing List
Stay up to date on upcoming Illinois Brass Band performances and other news and events. Subscribe to the
Illinois Brass Band Announcements Mailing List
.