Interactive Map of Summer 2014 Concerts
1 Jul 2014
View IBB Summer 2014 Concerts in a full screen map
IBB Takes Third Place at NABBA
19 Apr 2014
This past weekend members of the Illinois Brass Band traveled to Grand Rapids, Michigan, to participate in the North American Brass Band Association (NABBA) Championships. Members took part in the Solo and Ensemble competition
more ...
Lev Garbar Wins CYSO Inspiration Award
17 Mar 2014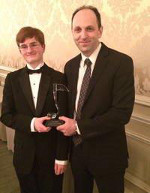 Lev Garbar, IBB co-principal cornet and band director in Illinois Community Consolidated School District 89 in Glen Ellyn was awarded the 2014 "Note of Excellence" award at the Chicago Youth Symphony Orchestra's annual gala on Saturday, February 1, 2014, at Chicago's Four Seasons Hotel.
more ...