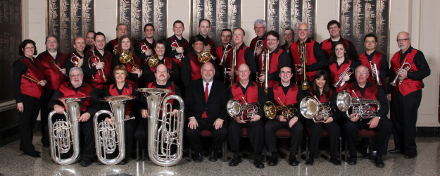 Lev Garbar Wins CYSO Inspiration Award
17 Mar 2014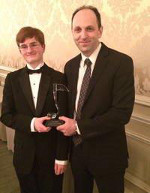 Lev Garbar, IBB co-principal cornet and band director in Illinois Community Consolidated School District 89 in Glen Ellyn was awarded the 2014 "Note of Excellence" award at the Chicago Youth Symphony Orchestra's annual gala on Saturday, February 1, 2014, at Chicago's Four Seasons Hotel.
more ...
IBB Members Play at Reception Hosted by British Consul General
28 Dec 2013
On Thursday evening, December 19, six members of The Illinois Brass Band, along with IBB Artistic Advisor, Andrew Wainwright, performed holiday background music at the residence of British Consul General Stephen Bridges.
more ...
Santa Brings New IBB CD
11 Dec 2013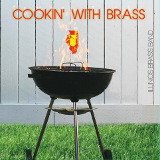 Just in time for Christmas, the Illinois Brass Band has released "Cookin' With Brass," its sixth collection of audience favorites. "The CD contains music we like to play at summer concerts," said IBB President Bill Kaempfe. "We hope our fans buy it for all their friends to help them remember that barbecue weather is only a few months away!" more ...
IBB Pres. Reps Band at Parks Showcase
20 Nov 2013
Illinois Brass Band President William Kaempfe represented the IBB at the 2013 Suburban Parks and Recreation Entertainment Showcase Tuesday, November 19, at the Prairie Lakes Community Center in Des Plaines. more ...
Mark Ponzo: Young Man With (A Lot of) Horns!
13 Nov 2013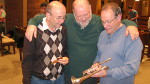 Many musicians have a backup instrument or two, but not Mark Ponzo. He has 172, including 98 cornets; and 74 trumpets, baroque trumpets, cornettos, saxhorns, and sackbuts! more ...
IBB Names Wainwright Artistic Advisor
30 Oct 2013
Andrew Wainwright, widely admired British-born composer, arranger and performer of brass band music, has been named Artistic Advisor to the Illinois Brass Band.
more...
Mark Ponzo Joins IBB As Co-Principal Cornetist
9 Sep 2013
Mark Ponzo, professor of music at Northern Illinois University and former member of the Rochester Philharmonic Orchestra, Mexico City Philharmonic and Syracuse Symphony Orchestra, has joined the Illinois Brass Band as co-principal cornetist.
more...
---
Meet the Band - Member Profile of the Week
25 Mar 2014
This week's IBB member profile is on Percussionist, Marissa Walczak
Upcoming events
Friday, April 11
2014 North American Brass Band Association Competition
Solo and Ensemble Contest
Time: 9:00 A.M. to 5:00 P.M.
Grand Rapids, MI
Saturday, April 12
2014 North American Brass Band Association Competition
First Section Band Performances
Time: 10:40 A.M. to 3:55 P.M.
Grand Rapids, MI
full list and details
Tweets by @illinoisbrass